APPELLATION ALSACE CONTRÔLÉE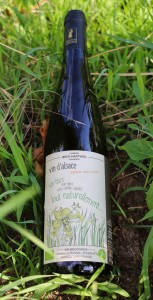 TERROIR : Sandy silt. Laubenhutt (here) and Plettig (there). See map, click to enlarge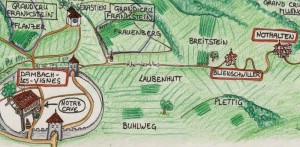 HARVEST : 100% manual
GRAPES : 80% Sylvaner and Pinot Blanc, 10% Auxerrois and Pinot Gris
VINIFICATION : The grapes are harvested together and put in the pneumatic press without crushing. The pressing is long and smooth in order to preserve the purity of the aromas. Wild-yeast fermentation during 8 to 10 months in our old oak casks. No filtration, no sulfites : natural wine! Estate bottled.
WHEN TO DRINK IT? Crisp and drinkable when young, don't hesitate to taste it young! However, it will age very well for 8 to 10 years, gaining in purity and complexity.
TASTING NOTES : Cloudy due to the absence of filtration. Expressive on the nose, aromas of ripe fruits. Dry and round in mouth, nice freshness, very easy to drink. Juicy, fruity.
WHAT TO DRINK IT WITH? Very agreeable as an aperitif. Nice pairings with fishes and poultry. Great with salads and vegetarian dishes.
HOW TO SERVE IT? At 10°C. Better when opened an hour before pouring. There can be some natural CO2, please decant if too much. Some lees in the bottles are normal and do not affect the quality of the wine.