Elegance, purity, saltiness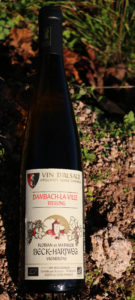 The designation "Dambach La Ville" distinguishes a particular style on the wines coming from the granitic slopes above and around the village. The soil is sandy, light and very draining. The micro-climate of our village is very dry (550 mm of rain per year), allowing a full maturation of the grapes without any botrytis. These terroirs are early-ripening.
The collective habits of the winemakers of the village, partly due to the climate and soils, play an important role in the style of the "Dambach La Ville" wines : there is very little place for the residual sugar here.
These combined factors give the "Dambach La Ville" wines their legendary elegance, with a nice balance, mostly dry. The acidity is fresh and pure. Well cultivated, these soils offer a nice depth, carried by saltiness. They are long in mouth and particularly adapted to great food and wine pairings.
The designation "Dambach La Ville" was traditionally used by village's winemakers until 2004, when it was forbidden due to an absence of official recognition. We then called these wines "Cuvée Prestige", before coming back to the original mention "Dambach La Ville" for the vintage 2014. It is for us a great pleasure to be able to mention proudly the real identity of our wines, highlighting these terroirs with a strong personality.