Pure expression of our terroirs
If we had to choose one word to explain our work, it would be respect.
Respect of our terroir : its full expression in all our wines is our aim!
Respect of the life in our soils, which is very important to us! It is the balance in our soils which will give the balance in our grapes and then in our wines. Because the production of great terroir-driven wines is not possible without healthy soils.
Respect for our grapes : it is their pure quality which we wish to find in our wines, without any addition of inputs. Our natural work in the cellar is certified Vinabio.
Respect for the environment, from which we depend. We don't use any chemicals; our vineyards are certified organic (regarding european standards).
Respect for our customers : all our work is driven by the idea of high-quality wines, made without inputs which could have a negative impact on the health. This are the engagements which we take for your gustatory, sanitary and ethical pleasure.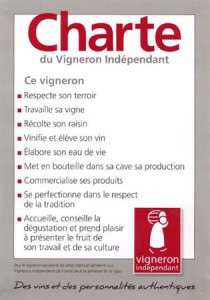 Respects of one's capacity to afford our wines. Nowadays, great terroir wines are sold at crazy prices. We do all our possible to keep fair prices even if the market could accept higher prices. Our prices are calculated to allow us all we need to do our work perfectly in order to offer you the best, but not for other unnecessary artificialities.
Respect for our ancestor's work : we keep this farmer's spirit. Let's not get too full of ourselves and let's keep this peasant common sense which is so today lacking. It is thanks to our everyday observations of our vines that we are at the forefront of the working techniques.
Respects for the others winemakers. The diversity of the makers and of their wines makes the beauty of our region. A good understanding of their work is important to respect them better.