Pure Granit
The grand Cru Frankstein is our best terroir. We are proud to have 25% of our vineyards on Grand Cru terroir (the average in Alsace is 4% Grand Cru).
One of the particularities of the Grand Cru Frankstein is to be composed of four different slopes. This is due to the fact that all the mountain surrounding the village is on the same granitic soil. So the four best southern exposed slopes have been classified inside the same Grand Cru. See the purple-circled zones on the map; clic to enlarge.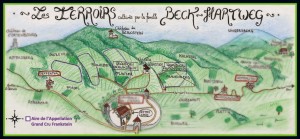 The granitic soil of the Grand Cru Frankstein is light, stony and sandy, very thin. These stones keep the warmth : that's why this is an early-ripening terroir.
These dry soils oblige the roots of our vineyards to enter deep in the soil in order to find some water, nutriments and mineral elements. These minerals give this particular crystalline saltiness to the Frankstein wines, as well as the length in mouth. The mouth feel is delicate, elegant, subtle with a nice acidity. These characters make them great gastronomy winers (see food and wine pairings here here). Don't hesitate to keep these wines for a long time : they age very well and will reveal all their personality with a few more decades.
We express this terroir with four different grapes : Riesling, Pinot Gris, Pinot Noir and Gewurztraminer. (liens vers fiches vins).