APPELLATION ALSACE CONTRÔLÉE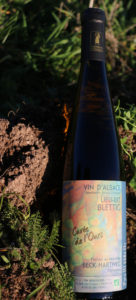 TERROIR : This wine comes from a little hill next to the village called Blettig (Here and there). The soil is silt, deep and rich. Click on the map to enlarge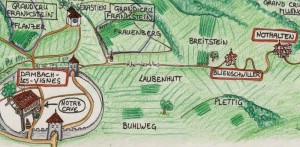 HARVEST : 100% manual
VINIFICATION : The Pinot Gris and Gewürztraminer grapes are put in the pneumatic press without crushing, and the pressing is long and smooth in order to preserve the purity of the aromas. Wild-yeast fermentation during 1 to 3 months in our old oak casks, then aged 8 more months on the fine lees. Estate bottled.
WHEN TO DRINK IT? Will reach a great balance after 5 years ageing. For those who love complex and dryer Pinot Gris, don't hesitate to wait one more decade!
TASTING NOTES : Exotic aromas of figs, date fruits, raisins. Rich mouth, full bodied with some mellow notes. Long!
WHAT TO DRINK IT WITH? Can pair with exotic dishes like gambas singed with rum, as well as the classic foie gras. It balances the strength of cheeses like Roquefort or a strong Pont l'Évêque.
HOW TO SERVE IT? At 10°C. Better when opened an hour before pouring. There can be some natural CO2, please decant if too much. Some lees in the bottles do not affect the quality of the wine.