APPELLATION ALSACE CONTRÔLÉE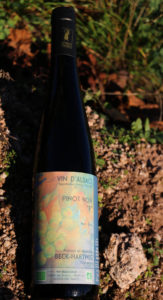 TERROIR : Granit , very old vine located inside the Grand Cru Frankstein on the Pflanzer (here). The Pinot Noir is not allowed to carry the mention Grand Cru Frankstein, that is why we call it "F" for Frankstein. Click to enlarge :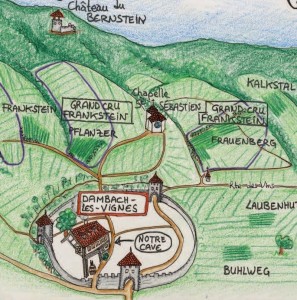 HARVEST : 100% manual
VINIFICATION : Careful destemming to preserve the aromas, then long maceration of 2 weeks to allow an harmonious structure. 11 months ageing in an old oak cask (over 100 years old) to harmonize the tannins, but without giving any oak taste. Unfiltered, no sulfite addition : natural wine. Estate bottled.
WHEN TO DRINK IT? Wait at least one year, if possible 10 so that the elegance and minerality of this granitic terroir express fully.
TASTING NOTES : Complex on the nose, aromas of pepper typical of the granitic soil. Cherries, cinnamon. Good structure in mouth, dense, ripe tannins with a crystalline saltiness giving a great length. Nice freshness, elegant.
WHAT TO DRINK IT WITH? Matches well with tender red meat like a beef tenderloin. A tartar with lemon is extraordinary to reveal the minerality of this wine! The elegant texture of a rabbit or osso bucco a la Milanese is perfect with the harmonious tannins of this wine.
HOW TO SERVE IT? At 16°C. Better when decanted an hour. This wine is not filtered, a little cloudiness is normal.