APPELLATION ALSACE GRAND CRU FRANKSTEIN CONTRÔLÉE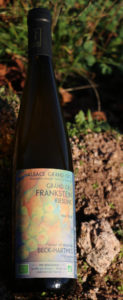 TERROIR : Granitic, sandy and stony. Southern exposed. This Riesling comes from the Frauenberg (here) and the Pflanzer (here). Click to enlarge :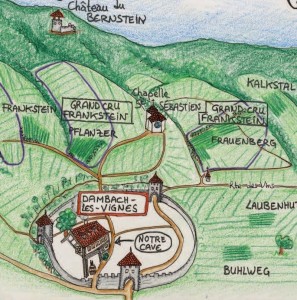 HARVEST : 100% manual
VINIFICATION : The grapes are put in the pneumatic press without crushing, and the pressing is long and smooth in order to preserve the purity of the aromas. Wild-yeast fermentation during 8 to 10 months in our old oak casks. Estate bottled.
WHEN TO DRINK IT? Can be enjoyed on the nice floral notes 3 to 5 years following the bottling. Between 5 and 15 years, it will become more and more elegant, revealing the crystalline saltiness.
TASTING NOTES : Elegant, floral with some notes of flint giving a nice complexity. Dry in mouth with a ripe acidity which gives a good structure. Crystalline mouth-feel due to the strong saltiness. Deep, long and complex. Aromas of white flowers and spices.
WHAT TO DRINK IT WITH? Will perfectly accompany the river fishes, tasteful but not too strong, like the trout or the pike perch. With a light sauce, with lemon and/or Riesling for instance, they will underline the minerality of this Frankstein. The same pleasure will be found with pairings with Matelote, pike dumplings, crayfishes, Saint Jacques. Fish tartar or sashimi are perfect to reveal the minerality of the wine too.
With some more ageing, this Riesling will pair very well with cheeses like Comté, Parmiggiano, and Abondance.
HOW TO SERVE IT? At 10°C. Better when opened an hour before pouring. There can be some natural CO2, please decant if too much. Some lees in the bottles do not affect the quality of the wine.